MilesWeb Review: Low Cost Shared Hosting For You
No wonder why shared hosting is the most used hosting service around the world? It fits one's budget!
Whether you are a small-sized or medium-sized business/blog, shared hosting is the perfect selection for you.
But why is shared hosting so cheap?
It is mainly because you don't pay for the entire server. The web host provides a single server to thousands of other users. That means the cost of the single server gets divided among users, and so it becomes cheap.
A shared hosting server is perfect when you have less capital investment and small-medium enterprise. Although you will share the server and resources with other users, it will be sufficient to host any beginner-level website.
What Is Shared Hosting?
A shared hosting server is a server that holds the data of your website. It helps the website go online. But, you and many other users share this server. 
You don't only share the server but also the resources that come along with the server.  
The reason it is perfect for small to medium enterprises is that it is the cheapest hosting service. The resources like storage, RAM and other stuff will be sufficient until the website sees growth.
There will always be an option to upgrade. But, by that time, you can definitely save money on expensive shared hosting servers.
As you see you are growing, you can upgrade your plan or switch to VPS and eventually dedicated hosting. 
Shared hosting is cheaper at MilesWeb. You can get it for the price of snacks.
MilesWeb provides one of the best & cheap shared hosting India services. They have helped many new start-ups build their image/identity in the digital world.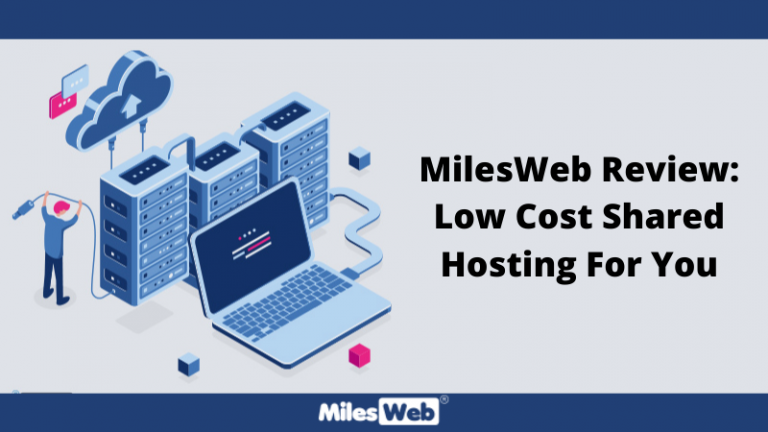 They recently won the title of 'The Enabler of The Year 2021' by Dainik Jagaran for their contribution towards small-medium business during the lockdown.
The reason why MilesWeb hosting services are cheap is that they want to encourage businesses to go digital. That is their pledge to continue aiming for the same.
MilesWeb also known for their best managed WordPress hosting, VPS, dedicated and some other services like domain and SSL. All at a low cost.
Here are MilesWeb's Shared Hosting Pricing and Specifications –
| | | |
| --- | --- | --- |
| Solo | Prime | Multi |
| Rs. 40/m after (80% off) | Rs. 130/m after (80% off) | Rs. 170/m after (80% off) |
| 10 Email Accounts | Unlimited Email Accounts | Unlimited Email Accounts |
| Host One Website | Host One Website | Host Unlimited Websites |
| 1 GB SSD Disk Space | Unlimited SSD Disk Space | Unlimited SSD Disk Space |
| Free SSL Certificate | Free SSL Certificate | Free SSL Certificate |
| Free Domain | Free Domain | Free Domain |
| 3 MySQL DB's | Unlimited MySQL DB's | Unlimited MySQL DB's |
| Unlimited Bandwidth | Unlimited Bandwidth | Unlimited Bandwidth |
| Control Panel + 1 click Installer | Control Panel + 1 click Installer | Control Panel + 1 click Installer |
More About The Features –
Free Domain – MilesWeb offers a free domain with all shared hosting plans. But, you are supposed to purchase the hosting for 1/3 years to get the domain free for the first year. From the second year, you will be charged as per its regular cost.
80% discount – As you know that you get 80% off on shared hosting plans, you need to purchase it for at least 3years to get the offer.
If you purchase it for one month, you will have to pay the regular shared hosting plan price like, for Solo, the cost will be Rs. 200/m.
Similarly, the cost of Prime and Multi will increase as well. So, buying on a 3years term is beneficial.
Free SSL Certificate – Many companies run hosting businesses, but not all provide free SSL certificates. MilesWeb offers a free SSL with every shared hosting plan.
An SSL certificate is essential to keep your website secure and safe through 'HTTPS'. If you have ever noticed, a secured website will have 'HTTPS', and an unsafe one will have 'HTTP'.
Visitors are aware that websites with 'HTTP' are unsafe to visit, so they will refrain from browsing the web page. An SSL helps encrypt the data and makes it easier for visitors to trust.
Website Builder – With shared hosting plans, you will also get a free website builder tool. You can create a beautiful website using this tool. It has multiple free templates to choose from and make it as you want using the drag and drop function.
The website builder is one of the cool ways to build websites when you are not into developing and technical stuff.
Email Accounts – MilesWeb provides professional email accounts with shared hosting plans. If you buy the entry-level plan, you still get 10 email accounts, which is a lot for a start-up.
You can use these professional email accounts to send and receive essential updates from customers.
30 Days Money Back Guarantee – Sometimes we are not as happy with the services as we expected. Although I am confident about MilesWeb, you can request money back on not getting the expected quality service in the first 30 days of signing up.
MilesWeb will initiate the refund after you reach out to their team via chat or email.
24/7 Support – You will receive 24/7 support from MilesWeb. Anytime you have a query, the support team will help you resolve it via chat or email.
WordPress Optimized – MilesWeb shared hosting plans are WordPress Optimized. That means your WordPress website can expect improvements in performance with MilesWeb hosting.
Conclusion –
Shared hosting works best for small to medium-sized businesses. You don't have to invest high, as shared hosting is available at cheaper rates. You will get all required resources, a free SSL certificate, and a free domain for the first year (on purchase of 1/3 years).
MilesWeb offers shared hosting at an 80% discount, which is huge. You can take utmost benefit of the same.