Things you should or should not
SEO is needed now more than ever but with this quarantine/lockdown/corona effects there are more digital gurus than ever.
People(Marketers) are coming from all over to have some kind of selling so how to know whom to trust?
Well, trust yourself you have time practice and make things happen for you.
Make a list of things you think might work and things that don't by simply applying them and doing practical work.
Every marketer thinks they got the upper hand on Google algorithm but the thing is Google knows who has the power and who rules this area.
So we can try but won't be there ever.
Know that on the first day that if you try to do everything according to google you might get lost in the process. The key here is to remember is for the humans by the humans.
Today we'll learn or see why or why not our sites don't rank.
Some of them are so simple yet important that even the highly experience people tend to forget.
Let's start with the first thing we learn in seo.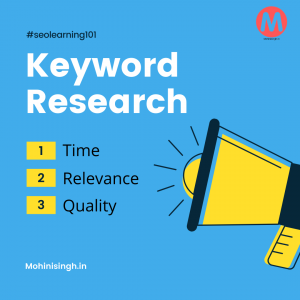 Keyword Research
There are a process and the right way to do proper keyword research.The point below are things which you need to recheck. 
Not Doing In-Depth Keyword Research

Not Using Long Tail Keywords

You're not targeting the right keywords

Poor research

Relying on too much common sense

Not verifying the data 

Not Comparing for competition. 
So moving on to the next common mistake you might be making is
2. Your website's content.
Content is as to your website as vital as oxygen to Humans.
Optimizing the content which is good enough for crawlers and humans is important the proper mix is the answer.
Have a look at the points below and see if you got any of these things on your website if so correct it ASAP.
Over-optimized Content
Content is Duplicated
Your content is poorly written
Content Is Not Optimized
Your Content Has Gaps
You Created Bad Content
The above points are exactly an example of how you think you have written the content that is unique but you have written the same thing just using different works probably more than 4-5 times.
This is not the ideal way the complete opposite.
3. You're not giving it enough time
What does this even mean, not time to content, site, research, or the result.?
everything. You need to give an ample amount of time to ever step you do. and wait for the harvest patiently. you don't get the fruit on day 1.
4.Over Optimised BackLink Profile
Yes, we can over Optimise too. and trust me no one like a ripe mango. So a moderate amount of keywords and the quality of content should never be compromised to make it SEO friendly. If you cant fit in your keyword more than twice it's okay as long as the content is of quality. 
As there are no rules of SEO but guidelines.
These things can happen when you 
You lack quality backlinks
Not Building Links
Spammy Back Links
You're Lacking Inbound Links
Over-optimized Links
5. Not Tracking Your Results
We all make this mistake more often then we think 
we make content 1 publish it, 
we make content 2 publish it 
we make content 3 publish it
We make changes to the site publish it but what we never do it wait and see what is working for us whatnot.
There are tools by Google itself analytics and search console who can guide you in this process just a quick look frequently won't hurt but will be of great benefit for your website.
Anythings you need to learn more about SEO from Google itself  
all the tools that Google has are here : Open
6. Website Has Broken Pages

There might be some pages you created and deleted with the time that still might be in the google index so either you need to redirect them to an existing page or update the link.
because no one likes a. 404 instead of the information, they clicked for.
also, 404 pages just increase the overall stay time of the site and boy that looks bad for Google.
7. Your website isn't Mobile-first or Not Mobile-Friendly
In my words, things that you might be doing wrong in SEO might also include some of the designing basics that as Your website may not responsive.
Today is the time when there are screens of any size for 2″ to 20 to maybe who knows 200″, so your website has to be at its best at any scree and might be customized accordingly.
As some buttons may be harder to click on mobile so the placement can be different as that of a website on a laptop/computer.
8. Your choice of hosting is not competent 
Trust me I've been there changing quite a few before settling and still I can improve as my traffic is low I don't face many issues but if you wanna know what kind I use here the link.
Few things should not happen to your websites and few of there are 
Site can crash
Malware
Down
Viruses
and slow response time 
So to avoid many or all of those invest in a single owned hosting rather than shared if you can and always see what kind of website and how much space and traffic you can possibly generate than select your plans according to it.
9.Your Website Design Experience
Hence another important thing that you may or may consider in SEO but it affects s I'm gonna put it in.
Your Information Architecture Is Confusing
you might be using some free theme's or not a propper navigation channel, there is a ton that can be wrong here.
We just want to keep 3 things in mind while designing the websites
Layout & Color.
Attractive Design & Content.
Easy Navigation
If you want to do a little deeper in the designing world
this website can help you a lot .
last but not the least (why does it feel like it is now kind of obvious that before ever last point everyone has to kinda say that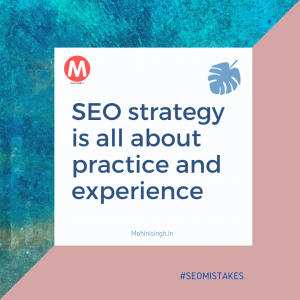 10. Your SEO strategy is outdated or You don't have an SEO Strategy
You are lost on what to, how to do, you've lost track and just haven't been able to figure out what works and whatnot. 
As clearly some site can work just be the blog ,some need a little push from the paid channels and some just hit the jackpot on there own just need to figure out what works
Bonus tips
Have a look at these below points too. 
High bounce rate
Your Website Speed
You are not tapping
Social media properly
Negative SEO
Site Was Hacked
You're not blogging
I know its hard to do it all on your own or to know everything at once.
sometimes I also feel that its a lot to take it but trust me learning SEO is more like a journey rather than a destination.
The process is simple to learn and apply I cant focus more on the execution part already
Also taking an extra bit helps from the right person never hurts so if you got any doubts or suggestions drop them in the comments and I would love to hear them out.
I hope I was able to solve something here.