Are you interested in selling information products online and entering into the fastest growing online business trends?  If so, then get ready to discover how you can make money online simply by creating and selling information products on the internet.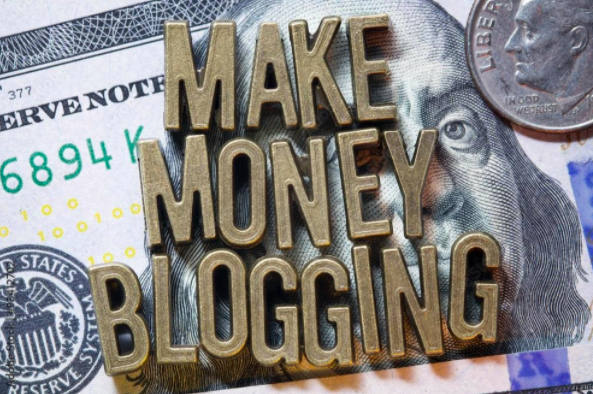 In a short time, bloggers have now successfully made a name for themselves through their writing skills. They are also working to enhance this skill, which is inspirational for other new bloggers.
So let us know how one can start blogging and a career with it.
How To Start A Blog:
Whenever an individual steps into the digital market as a blogger, he must keep in mind a few fundamentals that perhaps every user should have before writing any blog.
But first, let us look at how one should make the first approach towards the blogging field.
Choose a blog name and give a niche to it.
A user has many name suggestions, and it could be some topic, a general matter of discussion, or most sited information or something you know about and want to discuss even more about it. A unique blog generates high traffic to your blog, which helps you build up your audience.
Users need to create a domain name.
Domain names are like the address of your house, which directly leads an unknown person to your home. Thus, a domain name is the name of your website, which comes under the syntax: "www.Example.com", Where "Example" is the name of your domain, while com is the top-level domain.
Top-level domain names are also important because they enable your blog to rank higher on the search results page.
One must purchase the domain name accredited with ICCAN, a non-profit organization that organizes IP addresses over the internet. 
The next step is to select a hosting service provider.
A web hosting company is the one that manages your website. This leads to generating traffic to your website. Many companies provide Cheap Web Hosting services, but choosing the right one truly depends on the user's choice and needs. The hosting services are provided in the segments for example:
Shared Hosting: The web hosting company provides hosting and other general facilities on a shared basis.
VPS hosting: The companies provide hosting services on a cloud network work-frame, where the user gets a virtual server to use along with multiple users. Cheap VPS Hosting is a more secure and stable solution for hosting.
Dedicated hosting: The server and its resources are entirely available for single-user, unlike shared hosting, where the physical and virtual resources are used on a shared basis. It is ideal for high performance, and the user gets valuable services.
Before taking any service, consider security, server uptime, and scalability.
Choose a blogging platform.
Many powerful blogging platforms offer both paid and complimentary services. Some of the best blogging platforms in today's time are WordPress, Googiehost, Blogger, Weebly.
There are website builder applications also, for example, Wix and Squarespace, which have user-friendly interfaces.
Many blogging platforms come with default themes and plugins, images templates, and features. These features help users give an impressive look to their websites, which helps generate income because the end-user is spending both time and money using your website.
Last but not least is publishing.
Publishing is the last step before you start with your blogging work. Once you've picked a hosting service, a blogging platform, and a theme for your website, you're ready to start your blogging journey.
Now let us know how to earn money from blogging in India.
How to make money from blogging in India?
As we are done with the blogging signup process and have collected the raw data required to feed into our blogging, let's talk about making money from blogging in India.
Blogging and earning every day is simply not a piece of cake. Gaining an audience may take time to give rise to passive income.
The E-mail list used to be the backbone of good business. Though time has passed, we live in the new digital world and are stepping into the Web 3.0 environment.
Let us know about the five sources that are beneficial for every newcomer or professional to earn a handsome amount of money. Some of the blogging platforms that are gaining popularity in India are:
1. Launch online courses
The online courses, school projects, seminars, and university courses are beneficial for all students. Students can find and buy your course products whenever they want to satisfy their needs. The online courses could be permanent or temporary based on the user requirements and depend upon the kind of content or skill to present it to the digital audience you have.
Today, online crash courses, general tuition classes, etc., in the form of videos, short clips, short tutorials based on current events, are becoming a great source of income for people.
People are getting paid by the websites for clicks and views on their web posts. The more the views and likes, the more a company pays rewards to its users.
Youtube, Facebook (now Meta), and many other web applications offer video editing and uploading facilities to its users to upload a direct video which is of great help to all other users.
If you have a large audience or are a prominent professional in your area, you will have no problem selling your course even if you do not release other materials or updates.
Creating an online system is done once and continues to generate income repeatedly.
2. Guest Posting
Guest posting is another way of earning money where the content is written for another company, thereby promoting company products online and thus making an online presence.
Guest posting is steadily gaining importance in posting where the users are also motivated, and these brand promotions offer a high or maybe low amount of incentives to the people.
It's not that people who start writing start gaining subscribers or make money online instantly.
The first amount could be a little low, but as time passes by and once you start enhancing your writing skill, learn more about the product, and promote them with all the necessary information a needy person has to have, you can become a pro writer.
3. Sell info products
You can make money online by selling information products online and tapping into one of the fastest-growing online business trends.
We all know that the internet has made it increasingly possible for anyone to earn money online. Not only are informational products in high demand, but they're also some of the most accessible products to sell.
So, if you're an aspiring entrepreneur, creator, or hobbyist looking to generate passive income, selling informational products and articles could be a good idea.
They're often digital products that give information and advice to fulfil a specific need, and ebooks have valuable tips from experienced business owners.
The e-learning ads by famous authors and celebrities are also a source of income generation and selling informational products.
Information products are supposed to be educational and helpful. In other words, people should receive a solution from your product or something that benefits them.
Your product should be so productive that it compels buyers to take services from you.
DHE Haryana College Admissions
Affiliate marketing is the process of earning money online in the form of commissions every time you promote a company's products or services and drive a sale. You only get paid every time you make a deal, just like a commission-only sales representative.
One of the affiliate programs is run by a web hosting company named YouStable, which offers 10$ as a welcome bonus to the people once they start earning handsome amounts.
It's not just 10$, because once you start applying skills in this field, which generates valuable sales of products of the company, the company also pays 15 to 25 per cent of recurring commission based on your regular performance.
They can also be helpful for youngsters who are already doing business and want to do side business also. The promotional tactics help the company gain more audience, and the promoters earn more money online.
In this time of chaos where most people have lost their jobs and those familiar with marketing techniques, YouStable's affiliate program could be an excellent option to start applying their skills in this field and Make money online.
5. Sponsored Posts/Products
Sponsored ads can help meet your goals regardless of your experience level or budget. Cost-per-click ad solutions can help you boost your visibility and increase sales.
These advertisements are promotional, so whenever a user visits any website, and he/she is searching for any product that such a website cannot provide, the users can simply click on the advertisement links or online advertisements if they find them relevant. Through the sponsored posts or product promotion, the product advertisements lead or rather attract and may or may not compel end-users to switch to your site. This method also helps you to earn a passive income.
Some of the companies which offer sponsored posts/ products are:
Tomoson.
Fango.
Asia Pay per post.
Shopstylecollective (For Lifestyle bloggers)
Conclusion: 
Today, the blogging industry has become a digital brand where different bloggers earn higher than those paid daily wages.
How one can earn money without investing any penny is becoming the new scenario of doing business.
The launch of online services is a good idea when COVID19 hits the world in the pandemic.
The top five ways of generating passive income are very beneficial for users who need money and skills but don't get any platform to perform. The blogging industry is giving them such a platform, and one should make use of it, and now you know how to do it.
Feel free to ask for more, or if you have any queries or suggestions, you are welcome to leave a reply in the comment box.